Electropolishing Unleashes the Shine on a Pet Tag Connectors
Doug Danforth had just retired from a career in banking and was thinking about what to do next. His dogs, it turned out, had the answer.
"People often get ideas in the context of their everyday lives," says Danforth. "My day-to-day life involved changing the tags on my three dogs, and I dreaded it."
With three dogs in his life, Danforth knew first-hand the shortcomings of the small metal rings used to attach tags to pet collars. The ring was an awkward, nail-breaking design that Danforth says hadn't been improved upon since it was introduced in the 1800s. "No one likes them," he says.
Danforth also knew the importance of having up-to-date ID tags on his pets, and reasoned that a product that made the process easier could also have the effect of encouraging more people to use ID tags.
"ID and rabies tags are essential. Our pet tag connector, which is made of stainless steel that has been polished, keeps those tags secure and looks good, too." – Dr. Susan Aiello, Chief Veterinary Officer, Pawdentify
With, presumably, the full support and encouragement of his Labrador retriever Atticus and twin beagles Marley and Molly, Danforth began the research that led to the founding of Pawdentify in 2009.
Today the company produces a line of stylish pet tags that attach to collars with a "TagLoc®" – a stainless steel connector that takes the work out of attaching ID, rabies and other tags. TagLoc was the answer that Danforth, along with Molly, Marley and Atticus, had been looking for.
A Solution for the "Ruff" Spots Other Metal Finishing Processes Leave Behind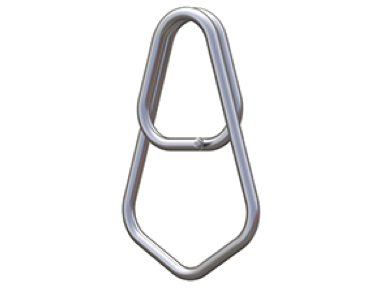 But before it could be unleashed into the pet market, there were a few ruff spots to overcome. (Ahem.) TagLoc's surface wasn't as smooth as it needed to be, and heat treating had left the metal discolored.
When a team member suggested electropolishing, Danforth did some "Googling" and found Able Electropolishing.
Danforth wanted TagLoc to look as good as the tags themselves, which are made of a durable polymer and available in a variety of colorful designs and logos. "We wanted to figure out how to make TagLoc pop, make it look like a piece of jewelry for dogs," he said. "We looked at several different approaches and electropolishing won - hands down - because of the quality of the very bright, shiny finish that it produces."
Danforth travelled to Chicago, where he met with the Able team. There, they worked together to create quality parameters and to fine tune the design. Danforth discovered that the benefits of electropolishing went beyond good looks:
"We looked at other companies that polished through other processes, but the results were not as good," said Danforth. "This is a very precise part, so it needs to have exactly the right amount of material removed in the finishing process."
Dr. Susan Aiello, Pawdentify's Chief Veterinary Officer, says the high-quality finish also serves the company's mission of encouraging more pet owners to use ID tags.
"ID and rabies tags are essential," she said. "The majority of pet owners consider their pets as family members, and our tags and connector keep our pets both safe and looking good." she said. For pet owners, "the worst thing in the world is a lost pet. ID tags can prevent that from happening."
Today, Pawdentify counts thousands of dogs and cats and their owners as happy customers through both direct-to-consumer purchases, and through veterinary offices. The tags and connector have also proved popular with veterinarians and vet techs, Aiello says.
Danforth says Able has played a key role in the company's success. "Able is part of the team," he said. "Electropolishing is critical for form and function."
Electropolishing for a High Quality, Corrosion Resistant Finish
Able Electropolishing provides high-quality electropolishing for a wide variety of critical parts in industries like pharmaceutical, medical device manufacturing, aerospace, food manufacturing and automotive, among others.
To learn more about the benefits of electropolishing for obtaining a high-quality, resilient, corrosion resistant and ultra-clean metal surface, you can watch a video here.
To speak with one of our experts, give us a call or click on the link below.