7 Critical Steps for Submitting Samples for Electropolishing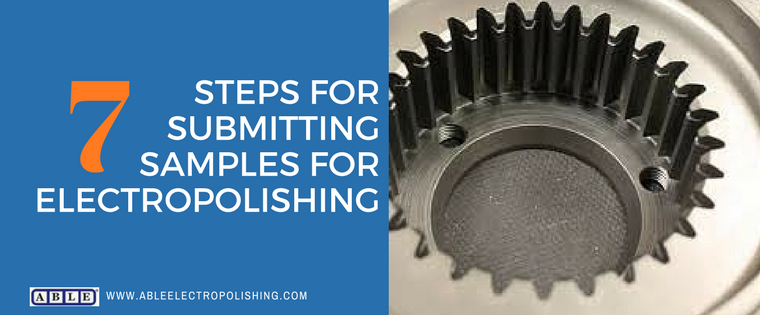 When considering a metal finishing process to solve common metal surface problems, submitting a sample for processing can be a great opportunity to learn the types of results the selected method will yield as well as how it will affect your metal components themselves. If you're working with prototypes, submitting a sample for processing should be your first step to ensure that the process will result in an optimal finish for the intended application. At Able, we run free samples for our signature electropolishing service at no charge. Electropolishing offers a variety of benefits including improved corrosion resistance, deburring, ultracleaning, microfinish improvement, and more. Here are the basics you'll need to provide when submitting a sample part for processing:

1.

Describe the Current Surface Problem
Electropolishing can resolve or improve many of the most common metal surface problems. Understanding the exact surface problem your components are suffering from is a critical for identifying the best final finishing method that will address your issue. Whether your parts are experiencing premature part failure, corrosion problems, contain burrs, or have microfinish problems, it's important to describethe exact problem when submitting your parts for electropolishing.
2.

Indicate Present Solution to Surface Problem
In addition to describing the surface problem of your parts, it's important to know
what current finishing method you are using to address it. This will provide a
baseline and a comparison for results achieved from electropolishing.
3.

Provide Information Regarding the Component's Material
While Able Electropolishing can electropolish
nearly any metal alloy – from the
stainless steel families to titanium - it's important to know the exact composition of
your component's material. Some alloys may not be suited for electropolishing do to
their inherent properties. Understanding the composition of your components is
critical when first trying out electropolishing as a metal finishing option.
4.

Indicate Special Tolerances
If your parts
have
close dimensional tolerances, it's important to indicate those
dimensions that need to be monitored when submitting your parts for
electropolishing. Since electropolishing removes a uniform layer of the metal's skin,
it's important to understand the final required size your parts must meet to ensure
that even after electropolishing,
your parts are still within the specifications.
5.

Include Prints of Your Parts
Including a print of your parts showing part number, description, dimensions,
tolerances and critical areas is extremely
helpful in order to process your parts
properly. Without this detail provided,
your parts may be
contacted on a critical
area or the material removal will be incorrect.
6.

Identify Multiple Qualities (if Needed)
If you're looking to
see multiple qualities to test the effectiveness of
electropolishing or to
evaluate the effect on your parts, you can submit multiple
parts. You may want to request
that samples be processed with different
amounts
of
material removal or different rack locations. To sample different qualities, be
sure to send in multiple parts and indicate what you are trying to achieve with your
samples.
7.

Provide Packaging Requirements
For many parts, packaging is critical. Fragile components
or components used in
highly sanitary applications will
require specialty packaging to ensure that your
parts are returned properly without compromising the part configuration or finish.
It is important that you indicate the preferred packaging method when submitting
your samples. When providing our quotation with your finished samples, we will
include the necessary packaging in our cost. Whether you need your parts
returned in cell trays, individually packaged or packaged in our clean bench, Able
has the method to make sure your parts are returned in a manner that secures your
parts for shipment.
Submit a Sample for Electropolishing – Free of Charge



Since 1954, Able Electropolishing has been the leader in the electropolishing andmetal finishing industry, offering unmatched quality, performance, reliability and exceptional customer satisfaction. If you're interested in learning more about what electropolishing can do for your parts, we encourage you to submit a sample part for processing. We'll process and ship your part(s) back to you in just a few days at no charge to you (unless special tooling, upgraded shipping, or your part needs to be sent internationally or outside the contiguous United States). An account manager will walk you through the entire process, answer questions and provide a quote if necessary. Ready to try electropolishing? Submit a part to be processed for free and discover the electropolishing difference.