State-of-the-Art Automation for Customized, Consistently High-Quality Results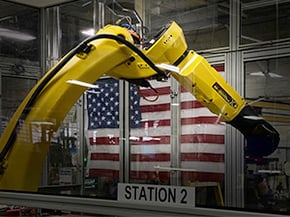 Providing state-of-the-art metal finishing processes for our clients is a process of customization, innovation and commitment. Every part we electropolish or passivate goes through a process of prototyping and testing – including test runs on full production equipment – to ensure precise and consistent results.
That commitment is why we continue to invest in robotic automation.
Robotic processes ensure consistent, repeatable results whether it's a fragile medical implant moving through the process in the tweezer-like grip of our smallest robots, or an aerospace part moving on the arm of a behemoth with a 2,000-pound weight capacity.
From medical device manufacturers focused on cleanability and a microsmooth finish to military and commercial aerospace engineers focused on corrosion resistance, cycle life and durability, our clients need precise, cost-effective and consistent results to ensure the quality and safety of the products they manufacture.
With an investment that includes 26 robots on site, automation is at the core of our state-of-the-art services. In addition to the added precision, automation drives efficiencies and speed, helping to provide our clients with a competitive edge in the market.
The Advantages of Automation for Precise & Customized Metal Finishing
Engineered for precision and reliability, Able's electropolishing and passivation processes combine highly customized line setups and tooling with the power of automation to ensure results that meet the demanding specifications of our clients:
Precise, repeatable processes
Consistently high-quality results
Cost-effective, scalable throughput
Rapid turnaround time
There is no such thing as a one-size fits all process at Able. Each part that we electropolish is engineered for everything from processing conditions, handling, inspection and packaging to ensure a superior finish, fit and functionality.
With automation, we can provide completely customized processes and still ensure the fastest turnaround times in the industry for parts of all sizes and shapes.
Customized Robotic Processes Result in Quality Parts
Working in collaboration with our clients, including in the design and prototyping stage, has paved the way for the continuous innovation of our methods and processes, with cutting edge solutions across a wide array of industries.
Every aspect of our process is customized for precise, repeatable results, from the orientation of the robot to the timing, variances, rinse line processes, and the chemical mix.
"We are pushing the envelope and constantly innovating," says Vice President of Sales Scott Potter. "We're changing preconceived notions in the industry about the way metal finishing processing can happen."
To learn more about what high-quality, customized metal finishing expertise can do for your parts, call us or click on the link below.