Electropolishing for Safer, More Cleanable Metal Parts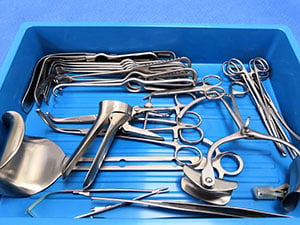 Manufacturers of medical devices and products for the food industry know that a smooth and shiny finish on metal parts is about more than the way a finished product looks.
A metal part that has been precisely honed to remove burrs, discolorations and other surface imperfections doesn't just look cleaner. It is cleaner. And it stays cleaner.
That is why a growing number of manufacturers in industries where cleanliness is critical rely on electropolishing to finish metal parts.
While a bright, high-shine finish is an aesthetic requirement for many products, a surface that is pathogen resistant and easily cleaned can be a matter of life and death when the final product is destined for a surgical tray or a food production line.
That's why a growing number of design engineers are incorporating "cleanability" into the design of their reusable products.
Because of the precision of the electropolishing process, including a rinsing and drying process that exposes any design elements that can trap liquid or otherwise impede cleanability, it's the metal finishing process of choice for products with no margin for error.
By pairing "clean design" with electropolishing, manufacturers reap a two-fold safety benefit: combining electropolishing's ability to deliver insights for ultra-clean design with its ability to produce an ultra-clean finish. At Able, we call that "Finish First" methodology. But our clients often just think of it as extra confidence in the safety of their products.
Safety in Sterilizable Parts
The practice of incorporating "cleanability" into the design of metal parts can yield significant benefits. From medical to consumer appliance industries, creating metal tools and instruments that are easily cleaned is a safety priority.
In the medical device industry, design features that inhibit or resist the growth of organisms, along with designs that make parts easier to clean, are key to reducing patient infections — an outcome made all the more urgent by the emergence of antibiotic-resistant bacteria.
While electropolishing is used to create an ultraclean and corrosion-resistant finish, a key benefit for manufacturers is the visibility it provides into designs that impair the cleanability of their products, including elements that trap bacteria, water, and other liquids, and make devices more susceptible to pathogen growth.
More Durable Metal Parts with a Shine You Can't Miss
Unlike passivation, electropolishing leaves metal parts bright and shining, removes discoloration from welding, and prevents rusting and corrosion from tarnishing the look of the product. In salt spray tests conducted by an independent facility, electropolished metal parts showed higher corrosion resistance than passivated parts. Electropolishing removes surface imperfections and eliminates areas where moisture and contaminants can collect and lead to corrosion, creating a long-lasting shine.
But there's more than shine at work in the electropolishing process. Electropolishing increases the functionality and durability of metal parts by removing particulates and contaminants that promote bacteria growth and corrosion.
In the aerospace and automotive industries, optimized parts mean increased safety in vehicles and aircraft. With demanding life cycle spans and the need for stress-resistant parts, these industries rely on electropolishing for deburring gears, lead screws, injectors, rotors, and more.
How does it work?
Electropolishing combines DC power and a blended chemical electrolyte bath to reduce flaws in the surface of metal parts with precise and repeatable results. This includes eliminating burrs and other imperfections where pathogens can hide. Electropolishing also creates a surface where liquid beads off because of a lower coefficient of friction, making it easier to clean and resistant to bacteria growth.
At Able, we work with clients to maximize these benefits by providing consulting services in the design and prototyping phases. By incorporating "clean design" into R&D, prototyping, and validation of manufacturing processes, we can help ensure that metal parts are designed for optimal cleanability and performance so our clients get the benefits of a superior finishing process right from the start.
To learn more about increasing the safety, appearance and cleanability of metal parts with electropolishing, give us a call or click on the link below.