Why Able? Reliable Results for Critically Important Parts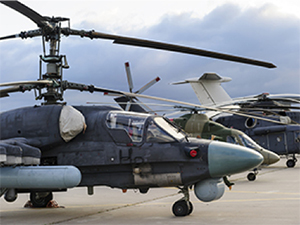 Our clients work in some of the most challenging industries you can imagine, designing and manufacturing parts, tools and devices with critically important functions.
When you are manufacturing parts for medical implants, helicopters or particle accelerators, precise, consistent and high-quality metal finishing results are not an option; they're the baseline.
There is a reason Able Electropolishing counts so many aerospace, medical, laboratory, pharmaceutical and food processing businesses among its clients. In fact, there is a list of reasons, but they all come back to one key theme: they trust us.
It's not enough that we are the largest electropolishing specialist in the country. Or that our processes are customized for each part to ensure the highest quality results. Or that we've been investing in new technology and collaborating with our clients to innovate new solutions and processes for six decades.
To earn the trust of the clients we serve, you have to be able to do all of those things. But the most important thing you have to do is to ensure high-quality results, every single time, no matter what the challenges. It's a high bar and one that we take very seriously. Here are some of the ways we go about it.
The Able Difference
Deep Expertise
We've been pioneers in electropolishing, passivation and other metal improvement technologies since 1954, collaborating with clients across a broad array of industries to develop innovative solutions and processes, including consulting in the design phase. Our "Finish First" Methodology provides a process for Able and our clients to define the requirements for each part, develop a customized process, and roll that out at scale during production runs.
On-Site Tooling
With tool makers on each shift, we provide on-site tooling customized for each part, ensuring highly controllable processes for consistent and repeatable results while minimizing contact with each part.
Full Engineering & Production Equipment Utilized for Prototyping
Our engineering department is a key part of our processes, building specifications part by part, designing the process for every part we receive, including samples. All samples and prototypes are run on full production equipment which eliminates different results once a part goes into production.
Customization
From pre-cleaning, to proprietary chemical formulations to packaging, we customize every aspect of your job, controlling chemistry, voltage, temperature, stock removal, racking and packaging. From the wide variety of alloys we process, to the range of parts, there are no one-size-fits-all processes at Able.
24/5 Production
With three production shifts, we are able to provide rapid turnaround of prototyping and finished parts, providing our clients with a competitive edge in time to market.
Automation
Our investment in state-of-the-art technology, including 26 robots onsite, provides the ability for us to provide repeatable results, throughput and consistency, for the most customized processes.
Enterprise Resource Planning
We've invested millions of dollars in our training processes, with a sophisticated ERP system that provides custom work instructions part by part, with video, graphic and written instructions for every step of the process. In addition, we have created a customer portal that provides important information on each order.
Dedicated Customer Success Managers
High quality customer service doesn't just happen. It's planned. That's why we assign a customer success manager to every client, creating a single point of contact and oversight that ensures an extra level of responsiveness and quality control.
Precise, Consistent, High-Quality Results for Critical Metal Parts
At Able Electropolishing, our processes have been meticulously engineered to ensure consistently first-rate results for our clients from prototyping through completion.
To learn more about what our expertise and processes can bring to yours, give us a call or click on the link below. Or send us a sample and try electropolishing for free.