Able Electropolishing Names New CEO, Sales Manager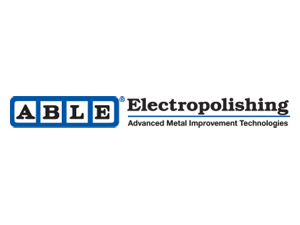 CHICAGO - Able Electropolishing, celebrating 65 years in business this year as a family-owned provider of advanced metal finishing technologies to the medical device, aerospace, food manufacturing and automotive industries, among others, is pleased to announce two key promotions.
John Glass is returning as CEO of Able Electropolishing. Glass, who joined Able in 1972 and was instrumental in developing the company's proprietary electropolishing processes, technologies and automation, began his career with Able in the shop. He has since held positions that include Shop Supervisor, Quality Manager, General Manager, Vice President and President.
Glass joins an executive team that includes President Brian Glass, Production President Tim Olsted, VP of Business Development Pat Hayes, VP of Sales Scott Potter, VP of Human Resources Jim Murname, Office Manager Virginia Johnson and Engineering Manager Rita Bagain. Able's executive team members have a combined experience of over 100 years.
Susan Alexander has been promoted to Sales Manager. Previously the company's customer success manager, Alexander has more than 18 years of experience at Able Electropolishing and has been focused on account management, customer service and sales since 2001.
Congratulations to John and Susan on your new roles and Merry Christmas and Happy Holidays to our customers and partners. We look forward to serving you in 2020 and beyond!
Able Electropolishing has been refining its metal finishing technology since 1954, improving the fit, function, finish and safety of critical metal parts for a wide variety of manufacturers with high-quality customer service and rapid turnaround.