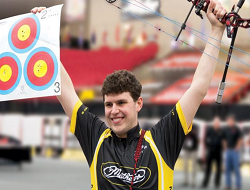 Alex Wifler has devoted more than half his life to a skill where the difference between success and failure can be measured in fractions of an inch.
Wifler, 27, is a competitive archer with a long list of titles to his name, including in 2015, becoming the youngest archer to win the Vegas Shoot. But Wifler wasn't content just to be ranked among the world's best – or even among the most highly paid in his sport. Two years ago, he started his own business designing and manufacturing parts and equipment for bows.
"I love archery … I wanted to figure out how to keep in it," Wifler said. "You can't win tournaments forever."
Among his most recent innovations is a new design for a tiny aluminum and stainless-steel part for a recurve bow called a plunger. Recurve bows are the only type currently used in the Olympic Games.
About 2 and ½ inches tall and half an inch in diameter, the plunger is one of only two parts – other than the string – that the arrow touches before its release, and it's key to keeping the arrow on a straight course as it flies toward the target.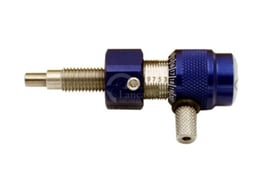 Before Wifler's variation, the only available plungers generally relied on a spring, which can wear out over time, and Wifler thought he could improve the part's performance by replacing the spring.
He designed a plunger that uses the opposing forces of two magnets instead. When his prototypes were ready for finishing, he began looking into processes for smoothing out the metal.
Electropolishing Leaves Bow Part Shiny, Smooth and Ready for Its Olympic Moment
"I wanted to make it perform better, smoother and to look better overall," Wifler said. "I'm always trying to improve my products." A CNC machining vendor told him about electropolishing.
At Able, Wifler met with our team and left same sample parts for electropolishing. The results, we are happy to report, were on-target.
"It was a night and day difference," Wifler said. "It was just way smoother." And the appearance went from "It's really nice" to "Oh wow," he said.
Of course, it's one thing to be beautiful, but the real test of a piece of archery equipment is in the hands of an archer. Wifler's team of pro product testers happens to include three Olympians competing in the upcoming summer games scheduled to begin in Tokyo on July 23.
The feedback was a solid 10, with the archers raving about the part's "unparalleled consistency" and forgiveness. See the bow in action below:
Hit Your Metal Finishing Targets with Able Electropolishing
At Able Electropolishing, unparalleled consistency and precision is something we understand well, not to mention the difference that fractions of an inch can make. In the case of electropolishing the fractions are as small as .0002".
Microscopic precision and attention to detail is why manufacturers of everything from lifesaving medical implants to aerospace parts to archery equipment, turn to us for the metal finishing results that improve the fit, finish and function of their metal parts.
And in at least one case, leave them podium ready.
To learn more about how Able Electropolishing can help hit your targets, give us a call or click on the link below.