While electropolishing is best know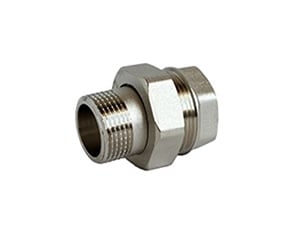 n for the results it achieves as the last step in the process for finishing critical metal parts, it can also be an interim step for improving the results of parts that will undergo plating.
A wide variety of metal parts are plated – a process in which a layer of copper, nickel, brass, zinc or other metal is used to coat the underlying metal surface for added strength, conductivity, corrosion resistance, friction reduction, and improved appearance.
For the best plating results, the underlying metal should be smooth and free of defects.
Enhanced Plating Results and Improved Corrosion Resistance
Electropolishing's ability to remove a precise and consistent layer of surface material leaves metal parts with a dramatically improved surface finish as well as improved corrosion resistance, both of which are key advantages for parts that will undergo plating.
Surface defects like burrs and cracks increase the likelihood that plating material will not coat evenly. It can also leave the plated coating susceptible to chipping or cracking. Such wear and tear can become initiation sites for corrosion or pathogen growth.
The ultrasmooth surface finish that electropolishing can impart also improves the appearance of plating. Mechanical finishing methods can create inconsistent patterns of surface roughness less conducive to the smooth application of plating.
Benefits of Electropolishing for Metal Parts that Will Undergo Plating
Because of its ability to leave behind a uniformly smooth surface area, electropolishing is a highly beneficial interim process for metal parts that will undergo plating. Here is an overview of the benefits:
Pre-Plating Applications for Agricultural, Automotive and Energy Parts
Applications for pre-plating electropolishing include agricultural and food processing equipment as well as automotive and household products where plating is often done for both added corrosion resistance and aesthetic appeal.
Other applications include surface finishing to improve the results of plating for electrical resistance and chemical stability.
Research in a 2010 issue of the International Journal of Hydrogen Energy describes the benefits of electropolishing for pre-plated stainless steel fuel cell parts. Compared to the same parts that were coated after mechanical polishing only, the electropolished parts showed "remarkably smooth and uniform surface morphologies … compared to the surfaces of the plates that were coated after mechanical polishing only," the abstract reports.
To learn more about what electropolishing can do for your pre-plated metal parts, reach out to one of our team members or take advantage of our free sample process.