Even in a year of unprecedented m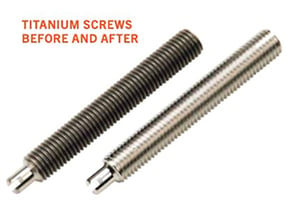 anufacturing obstacles and supply chain bottlenecks, medical manufacturers have bigger challenges.
The manufacturing of lifesaving tools, devices, instruments and implants is a process that puts economic factors into more than a bit of perspective. Quality control and the elimination of defects that can create problems like pathogen initiation, corrosion and even premature failure of medical instruments are challenges with no room for error.
That's why medical manufacturers often specify electropolishing to finish their critical metal parts.
With its ability to remove a microscopically-precise and consistent layer of surface material, electropolishing leaves metal parts for medical products with a significantly improved microfinish that enhances corrosion resistance and durability while eliminating burrs, microcracks and other surface imperfections and contaminants.
Learn more about the benefits of electropolishing for medical manufacturing in our technical guide, Metal Finishing for the Medical Industry: Improving Sanitation, Performance and Safety.
Highlights of our Technical Guide
The guide includes case studies illustrating the ability of electropolishing to provide finishing solutions for devices that include cutting tools, drills and blades, surgical tools, implants, imaging equipment and disposable medical devices.
You'll also learn how electropolishing works to improve corrosion resistance, as well as its use for a long list of common and specialty medical alloys including Nitinol, titanium and stainless steel.
At Able Electropolishing, our processes have been honed over decades in collaboration with medical manufacturing engineers and designers. Like many of our medical manufacturing clients, we are also pioneers in our industry and committed to our role in ensuring the quality, safety and durability of life saving medical products.
Take advantage of our free sample process to see the results for yourself, or reach out to one of our team members to learn more about the metal finishing challenges Able Electropolishing can solve for you.