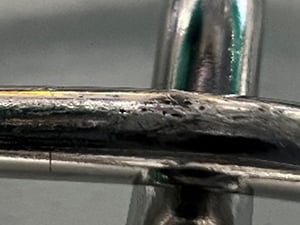 When a leading manufacturer in the medical device industry encountered a critical production issue, resulting in $70,000 in monthly scrap costs, they knew immediate action was needed. The culprit? Areas of corrosion on stainless steel racks used in the production a drug-infused urinary device.
Read our case study to learn more about the challenges the manufacturer faced, how electropolishing provided a fast and effective solution, and how Able's turnkey logistical support brought an added solution to the effort.
An Escalating Challenge for Medical Device Manufacturer
Years of wear and tear had taken their toll on the manufacturer's stainless steel racks, leading to spots of corrosion. This, in turn, resulted in medical devices marked by small black corrosion spots, rendering them unusable.
The scrap rate had reached an alarming high, and the manufacturer required an urgent solution. The replacement of the racks was inevitable, but there was an immediate need for a solution to keep the production line running — and to salvage the existing equipment while the team sourced a long-term solution.
A Strategic Solution with Immediate Impact
On the recommendation of the manufacturer's metallurgy subject matter expert, they employed Able Electropolishing, armed with decades of experience in electropolishing for the medical manufacturing industry.
Electropolishing, which involves a precise chemical and electrical process that strips away the top layer of metal parts, promised to eliminate surface defects and bring the racks back to a condition capable of maintaining manufacturing output. The immediate results were nothing short of impressive, according to the manufacturer's lead engineer, and drastically reduced the scrap rate and kept the production line moving seamlessly.
Highlights of the Case Study
In this case study, you'll gain insights into:
How electropolishing works to extend the durability and life cycle of metal parts
The power of a trusted network. Discover how Able Electropolishing provided a dual solution for old and new equipment with the help of a reliable wire parts manufacturer
Real numbers and tangible results, showcasing the significant financial and operational benefits achieved
An Electropolishing Partner vs. Vendor
Able Electropolishing is committed to being a partner invested in solving your unique challenges, ensuring the integrity and quality of your products instead of just a vendor. Additionally, the Able trusted supplier network opens doors to a world of possibilities, streamlining your processes and bringing your products to market faster and more cost-effectively.
Ready to learn more about the solutions provided by electropolishing? Read the complete case study here and discover how Able Electropolishing can transform your production challenges into success stories.