Why Electropolishing is the Best Option for Stamped Metal Parts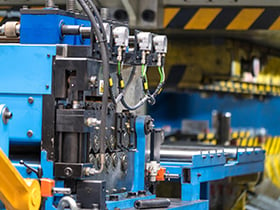 The stamping process puts a tremendous amount of pressure on metal parts and can leave behind surface anomalies and defects that affect fit and function.
For critical metal parts used in industries like aerospace and medical device manufacturing, these imperfections are more than cosmetic; they create a surface that is more susceptible to corrosion and premature failure and the trapping of harmful pathogens and bacteria.
Other finishing processes cannot match the benefits of electropolishing for these parts. That's why so many medical device and aerospace manufacturers rely on electropolishing to ensure that stamped metal parts are left free of burrs and other imperfections that can reduce cycle life and create dangerous initiation sites for corrosion and contamination.
Electropolishing works by using a low-voltage current and submersion in a chemical bath to remove a microscopically precise and consistent layer of surface metal, leaving behind an ultraclean and ultrasmooth finish free of burrs, heat tint, embedded oxides or particulates.
Robotic Automation for Consistently Flawless Results
At Able Electropolishing, state-of-the-art automation adds to the precision and consistency of this process, along with customized racking for even the most delicate parts and a prototyping process on full production equipment to determine the custom specifications for each part.
The result is a finish that is not just ultrasmooth – it's also more durable and resistant to corrosion.
Salt spray testing shows that electropolished parts have 30 times the corrosion resistance of parts that have undergone passivation. This is a key reason why commercial and military aircraft manufacturers use electropolishing as the final step in production to improve cycle life and prevent premature part failure. It is also the metal finishing process of choice for many in the automotive, food processing, pharmaceutical and laboratory industries for metal parts in a wide variety of metals and metal alloys:
Stainless steels
Nickel alloys
Carbon steels
Tool steels
Titanium
Aluminum
Copper alloys
Nitinol
Brass
Tungsten
And more
To ensure the best possible outcome for stamped metal parts, Able can also consult in the design and prototyping process to help prevent common design flaws that can impede the finishing process.
It's a service we call our "Finish First" methodology and it allows us to share decades of expertise in metal finishing – from the start. It's one more way we can add to the process by which every single part is finished to the most exacting and customized specifications for fit, form and function.
Experts in Electropolishing for Stamped Metal Parts and More
Since 1954, Able Electropolishing has been a pioneer in the art and science of metal finishing processes. In close collaboration with our clients in industries where the challenges of metal finishing go far beyond a smooth appearance, we have spent six decades innovating and improving the process. Today we are the world's largest electropolishing specialist, and count the world's leading aerospace, medical and automotive manufacturers among our clients.
Give us a call or click on the link below to learn how we have earned the trust of the most demanding industries in the world.