For every successful project at Able Electropolishing, there is a meticulous, high-quality process at work behind the scenes. Our clients rely on us for precise and consistent results, customized to the demanding needs of industries like medical device manufacturing, food and beverage production – and industries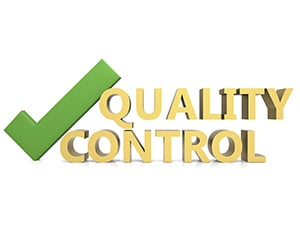 like yours.
Our Finish First process ensures the highest quality finishing results from the beginning, as part of a collaborative process in the design phase to ensure that parts do not incorporate flaws that will impact finishing results. We also provide a free sample process so that clients can see and calibrate electropolishing results to the unique requirements of their parts.
Every Step Counts for the Highest Quality Finishing Results
Once we have parts in-house, our quality control protocols ensure meticulous processes from start to finish.
An incoming inspection ensures that correct parts have been received, are dimensionally in range for processing and are free from visible surface insulators or defects. Cartons are also inspected to ensure that they are intact, with no signs of loss or damage to contents.
Testing may be conducted as well, with capabilities including:
Dimensional measurement with manual micrometer
Microscopic inspection
Profilometer for determining surface roughness
Copper sulfate and ferroxyl testing for passivation verification


If everything looks good, we proceed to pre-clean the parts to remove grease, oil and other contaminants that can impact the electropolishing process.
Our post-cleaning rinsing process is a key differentiator for ultraclean results. Depending on the part design, metal alloy and other factors, the rinsing process can include deionized (DI) water, temperature-specific rinses, multiple rinses, nitric acid rinses or in some cases, ultrasonic rinsing. We also use centrifugal and oven drying to ensure that parts emerge with an ultraclean surface.
Final inspection includes the review of all preceding inspections and tests and verification of conformance with functional testing, final piece count, final dimensions and a review of product labeling, among other steps.
Third-Party Certification and Compliance Standards
Our work adheres to multiple standards for specific industries, such as aerospace, appliance, automotive, food processing, laboratory, medical device and pharmaceutical.
We are certified and comply with high standards set by leading organizations:
ASTM (American Society for Testing and Materials)
ASME (American Society of Mechanical Engineers)
SAE (Society of Automotive Engineers)
A Well-Trained Team for High-Quality Electropolishing Results
As the world's largest electropolishing specialist, we take great pride in the work of a well-trained team and an uncompromising quality control process.
Able team members are trained and certified to ensure the highest standards required by our customers. They are well equipped through deep understanding of technical guidelines and standard operating procedures in our state-of-the-art facility.
Their work plays a vital role in the strength, corrosion-resistance, and fatigue-life improvement of critical metal parts for products with no room for error. Engineers and manufacturers in the most challenging industries trust us both to meet deadlines and deliver to the highest-quality standards.
You can too. We offer a free sample process to let you try electropolishing for your parts with no obligation. Give us a call to learn more about the many benefits of electropolishing. As an industry pioneer, we have honed our processes over six decades of innovation and collaboration with engineers in a wide array of industries.
You can also join us for a free lunch and learn session at your convenience, where you can learn about electropolishing and ask questions about its application for your parts. Lunch is on us!