Join Able at the AeroDef Manufacturing Conference to Learn More About Electropolishing for the Aerospace Industry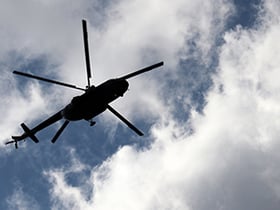 In the aerospace industry, the right metal finishing process is not an aesthetic preference – it's a crucial step for ensuring the safety and durability of flight-critical parts.
Stamping and machining can leave behind microcracks, burrs, fissures and other surface anomalies in critical metal components, increasing the risk of premature failure and reducing cycle life.
Electropolishing eliminates surface imperfections that can affect the fit, form and function of critical metal parts, leaving them better able to withstand high levels of stress and corrosion.
At Able Electropolishing, we have decades of experience providing the highest-quality electropolishing for flight critical metal parts. In addition, decades of collaboration with our aerospace industry clients have allowed us to achieve continuous process innovations that have enabled our growth as the country's largest electropolishing specialist.
On March 17-18, we will join more than 2,600 industry professionals to showcase the latest in aerospace products, technology solutions and visions of the future at the AeroDef Manufacturing Conference at the Fort Worth Convention Center in Fort Worth, Texas.
Stop by Booth #925 to learn more about our work with aerospace and defense manufacturers who depend on the precise, consistent results that our electropolishing process produces for flight-critical metal parts.
Electropolishing Vs. Passivation
Electropolishing is 30 times more effective than other finishing techniques, including passivation, for eliminating surface imperfections like burrs, corrosion, staining, and more, increasing cycle life for flight-critical parts in a wide variety of metals and metal alloys, including:
200-300 Series stainless steels
400 Series stainless steels
Precipitating hardening grades
Unusual stainless steels
Copper alloys
Tool steels
Aluminum
Titanium
Nitinol
Specialty alloys
Nickel alloys
Specialty steels
Carbon steels
Electropolishing, which combines a chemical bath with a controlled electrical current, is prized for the microscopic control with which it is able to remove a consistently precise layer of surface metal, even on intricate parts and those with very small interior diameters. As the last step in the metal finishing process, electropolishing removes a uniform amount of metal from the surface of aerospace parts like brackets, flanges, seals, fittings, gears, nozzles and more. The result is an improved and corrosion-resistant surface finish, free of contaminants, able to pass fatigue testing and meet demanding cycle life specifications.
Here's an overview of the key benefits electropolishing provides for aerospace parts:
Fatigue Life Improvement
Fatigue life improvement is a critically important benefit of the electropolishing process, particularly for flight-critical metal parts used in helicopters and airplanes. These parts must be able to withstand high levels of stress and resist corrosion. By removing cracks, burrs, fissures and other surface imperfections, electropolishing leaves parts with increased cycle life and corrosion resistance.
When stamping left one of Able's clients with premature failure of parts for a flight-critical rotorcraft application, electropolishing was able to remove the fissures and cracks that stamping had left behind and that had made the parts susceptible to stress. With Able's electropolishing processes, the parts were successfully improved and able to pass stringent bench testing – a factor in the company's subsequent award of a large contract.
Corrosion Resistance
Electropolishing removes a thin and uniform layer of the surface metal, creating a passive, clean exterior that is free of imperfections, including iron deposits and staining that can appear after welding. Surface anomalies and debris can leave metal parts more susceptible to corrosion. Electropolishing removes an even layer of metal surface and provides enhanced corrosion resistance 30x greater than passivation alone.
Surface Preparation for Penetrant Testing
In the aerospace industry, flight-critical parts are often subjected to Liquid Penetrant Testing, to detect defects that could serve as initiation sites for failure.
Electropolishing is the ideal process for Liquid Penetrant Inspections, removing excess debris, smeared metal, and amorphous layers that can hide hairline cracks on the surface and lead to a false reading.
Incorporating Finishing Expertise into Part Design for the Highest-Quality Results for Flight Critical Metal Parts
Unlike mechanical polishing, the precision of electropolishing improves RA value by up to 50%. Electropolishing does not require a coating, is non-distorting, ideal for even the most fragile of parts, and provides exceptional resistance to corrosion.
And, with Able's Finish First methodology, our clients achieve even better results with consulting in the prototyping stage to help eliminate design flaws that can lead to trapped liquid and other imperfections that can impede surface finishing results.
Such collaboration with our clients has enabled us to continually innovate our processes, ensuring consistently high-quality results in industries with no room for error.
Click on the link below to learn more about our services for the aerospace industry or to schedule an appointment with one of our team members at the AeroDef Manufacturing Conference, Booth #925. We hope to see you there!