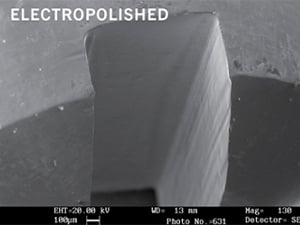 Electropolishing works by removing a microscopically precise layer of material from the surface of metal parts.
The amount of material removal varies, depending on the part, the application, and the alloy, among other factors.
How do we determine the stock removal standard that will create the highest-quality results for each part?
Here is an overview of the process, which includes close consultation with our customers in industries that include medical device manufacturing, aerospace, food processing, electronics, semiconductor and more.
Sample Electropolishing for Determining Material Removal Specs
It typically begins with our free sample process, in which parts or part prototypes are electropolished to determine the precise amount of material removal required to achieve the desired results.
Able's sample electropolishing process uses full production equipment to precisely determine the parameters for material removal as well as to establish processing time and any other process adaptations required for optimal results. Sample parts are processed in 24-48 hours.
In addition to establishing material removal specs, our sample process also provides a demonstration of electropolishing's precision, consistency, and ability to remove surface imperfections. This serves as an aid to engineers in developing the right specs for their critical metal parts and enables process improvement, refinement, and innovation.
Material removal standards are attached to a file copy of the quotation indicating operation conditions and amp/minute readings for the parts. If the quoted part becomes an order, engineering process control documentation is created based on the data generated in the sample run.
Our electropolishing processes – including sample electropolishing – utilize custom tooling and fixturing based on part design and industry specific requirements and standards. This ensures high-quality results for a wide variety of parts both intricate and fragile.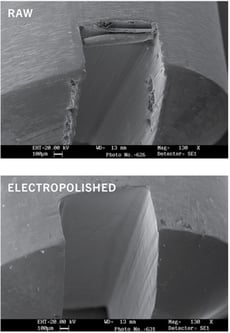 Application-specific Material Removal
Material removal can be calibrated to tolerances as low as +/-.0001″ depending on the alloy and the application. Electropolishing removes surface imperfections and contamination left behind by machining processes with microscopically precise removal of surface material. Here are some general ranges for specific applications:
Deburring: .0005" - .0015" removal per surface or as required per application
Micro-Finishing: .0001" - .0005" removal per surface or as required per application
Size/Weight/Dimension: Material removal to be determined for each application
BriteSM Passivation: .0001" - .001" removal per surface or as required per application
Endurance Finishing: .00025" - .0015" removal per surface or as required per application
Decorative: Varies to accepted standard sample
Bulk Electropolishing: Bulk electropolishing stock removal and finish vary from bright to dull. The standards are based on sample approval.
Precise Results for Critical Metal Parts
Unlike other metal finishing processes, electropolishing can improve the surface roughness (Ra) of metal parts by up to 50%, depending on the alloy, leaving parts with improved fit, function, and performance. Electropolishing also leaves parts with a passive, oxygen-rich surface that significantly improves corrosion resistance, among other benefits.
Parts are also left microsmooth, ultra-clean and with improved resistance to pathogen growth. For many parts, it is an all-in-one solution that eliminates the need for additional metal finishing processes like passivation, hand deburring, tumbling, or pickling.
Experienced Electropolishing Partner for Improved Metal Parts
Able is the country's largest electropolishing specialist, as well as a pioneer of the process, which we have honed over decades of collaboration and innovation with our customers.
Watch our electropolishing video to learn more about the process or contact us to speak with an electropolishing expert who can answer your questions about surface material removal and more.