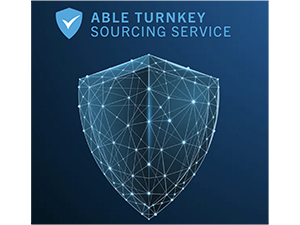 Ongoing supply chain turbulence has left many industries looking for solutions. At last month's Medical Product Outsourcing (MPO) Summit, the topic was the source of more than a few urgent conversations.
Among the anecdotes shared was a scenario in which the manufacturer of 250 million COVID test kits found itself with 80% of its supply chain compromised. Others spoke of communication gaps between OEMs and vendors and misalignment of supply and demand. Such stories highlight the ongoing vulnerabilities of the global supply chain for medical manufacturers.
The consensus was clear: changes are needed, including onshoring or nearshoring of supply chains to build resilience and agility. What if you had a supply chain partner that could not only solve your sourcing problems but also prevent them? Now you do with Able's turnkey sourcing service.
Ease Supply Chain Headaches
Able Electropolishing's solutions for medical manufacturers go beyond providing the highest-quality electropolishing results for medical instruments, devices and implants; our business is built around a commitment to streamlining the process of getting your products to market.
And Able is uniquely positioned to do so: as the country's largest electropolishing specialist with seven decades of experience, innovation and collaboration with engineers designing everything from cardiac implants to particle accelerators, we have built an unmatched network of reliable suppliers.
Dating back to our founding in 1954, the Able sourcing network is available to help you source a wide variety of products and services, from hard-to-find materials to help with packaging, inspection, logistics, metal finishing beyond electropolishing, and more. This turnkey sourcing service will help you close gaps and speed your products to market with speed and flexibility that has proven itself under a wide array of challenging conditions.
Get Started Today
What are your metal finishing and supply chain challenges? The medical manufacturing supply chain faces challenges that will require innovation, strategic planning, and reliable partnerships.
Speak with our sourcing experts to learn more about how we can ease your metal finishing, logistics and other supply chain headaches.