When Less than Perfect is Not Good Enough: Electropolishing for the Pharmaceutical Industry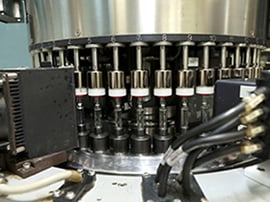 When it comes to the surface finish of metal parts used in pharmaceutical manufacturing, there is a simple standard: it's got to be perfect.
Pharmaceutical production equipment valves, manifolds, pumps and other accessories need a finish that is perfectly smooth, free of nicks, anomalies, polishing compounds and other contaminants left behind by mechanical polishing.
That's why electropolishing is almost always specified for these parts.
Electropolishing's ability to achieve the required Ra finish, removing a microscopically precise layer of surface material within very tight tolerances, makes it well suited for stainless steel parts for drug dispensing devices and for pharmaceutical production equipment parts, which typically undergo post-production mechanical polishing and buffing.
Electropolishing for Pathogen and Corrosion-Resistant Pharmaceutical Parts
The advantages of electropolishing however, go beyond removing the compounds and other foreign particulates that mechanical polishing can leave embedded in the pores of the metal – electropolishing also produces a surface finish that is highly cleanable and resistant to pathogens and corrosion. These are critical properties for parts that must stand up to constant exposure to liquids, including harsh and potentially corrosive substances.
Of course, there's nothing really simple about achieving perfect results. It's the product of decades of experience, innovation and collaboration with manufacturers of the most delicate and critical components imaginable.
Our processes, honed over six decades of electropolishing parts for industries that include medical device manufacturing and aerospace, allow us to provide our pharmaceutical industry clients with the consistently high-quality results that their work demands.
Here are some of the advantages we provide to the pharmaceutical industry:
On-site tooling enables us to create customized racking to accommodate a wide variety of valves and fittings, no matter how intricate
Prototypes run on full production equipment to meet the most stringent criteria for quality control
Ability to electropolish a wide range of alloys including Hastelloy, AL6XN and 300 series stainless
Robotic automation ensures consistency of customized processes
Three fully staffed shifts drive efficiency and rapid turnaround of parts
A Trusted Metal Finishing Partner to the Pharmaceutical Industry
When you consider that a single surface nick can render a part unacceptable for pharmaceutical production and that these parts can cost tens of thousands of dollars to produce, you will understand why Able Electropolishing is among the very few electropolishers in the country trusted to do this type of work. Our reputation for quality, consistency, reliability, innovation and customer service is unmatched.
To learn more about our work for the pharmaceutical industry give us a call or click on the link below.
Learn More about Electropolishing for Pharmaceutical Parts and Equipment