The Electropolishing Advantage: Precision, Consistency, Control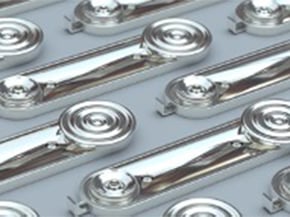 At Able Electropolishing, we've been honing our processes over six decades of innovation and collaboration with engineers in industries where the results have no room for error.
From aerospace engineers to medical device and food processing equipment manufacturers – and a wide array of other industries – our clients choose electropolishing for their critical metal parts because of advantages that include enhanced resistance to corrosion and pathogen growth, along with unmatched precision in the removal of surface material.
Watch our newest video to learn more about how electropolishing eliminates a microscopically precise layer of surface material, eliminating surface defects left behind by machining and other processes and leaving parts with improved fit, finish, function and durability. For parts both large and small and manufactured from an array of stainless steel and other metal alloys, electropolishing is the finishing process of choice for parts that require the highest-quality surface finish, and consistently repeatable results.
As the world's largest electropolishing specialist, our processes are designed to meet the needs of industries where imperfections in the surface of a metal part can have life or death consequences. Watch our video to see why Able Electropolishing has earned the trust of so many of them.