Read Able Electropolishing's guide on passivation, pickling, and electropolishing to learn about the benefits and drawbacks of each for your metal parts.
From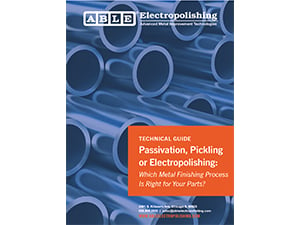 aerospace to medical and food manufacturing industries, metal finishing is essential to the proper fit, function and finish of critical metal parts. Surface imperfections such as burrs, oxide scale, and more can threaten the integrity – and safety – of parts.
Passivation, pickling, and electropolishing are common metal finishing techniques – but not all finishing methods are created equal. In our latest guide, we explain the benefits of each, how the processes differ, and how to determine which process is right for your parts.
Passivation, Pickling or Electropolishing?
While passivation, pickling, and electropolishing all improve the surface of a metal part, they function very differently.
Passivation utilizes a nitric or citric acid bath, and parts are typically passivated in a bulk process. While passivation is compatible with stainless steel and refractory metals, other metals are susceptible to flash attack that can damage the part or threaten its integrity.
Pickling, a cruder and more dangerous process than either electropolishing or passivation, is commonly a pre-passivation technique that dissolves surface imperfections with hydrochloric or sulfuric acid. Because of these harsh acids, pickling is often too corrosive for many metal alloys and faces strict EPA regulations due to environmentally hazardous waste.
Electropolishing combines a chemical bath with an electric current to gently and precisely remove a uniform layer of surface material from the part, improving roughness average (Ra) up to 50% depending on the alloy. Parts that are electropolished are also left in a passive state. Often the preferred metal finishing method, electropolishing offers microscopically precise results for industries with no room for error.
For a complete breakdown of the differences between passivation, pickling, and electropolishing, read our guide.
Read Our Guide to Learn About Metal Finishing for Corrosion Resistance
While the type of part, alloy, and application are all factors in the choice of finishing method, electropolishing provides 30x the corrosion resistance of parts that are passivated only. With microscopic precision, electropolishing smooths and polishes the surface of critical metal parts, providing consistent and thorough results.
For over five decades, Able has provided superior metal finishing results to clients in aerospace, medical engineering, food manufacturing, and other industries. To learn more about common metal finishing techniques, read our full guide: Passivation, Pickling, or Electropolishing: Which Metal Finishing Method is Right for You?