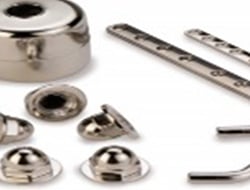 Without a defect-free, ultraclean finish, metal instruments, medical implants, and other devices pose a risk to patient health and safety.
Small microburrs, fissures, cracks, and other defects left behind on the surface of metal parts that undergo machining create an environment susceptible to bacterial and viral growth, as well as corrosion. With electropolishing, medical manufacturers are assured of the highest quality finish for their critical metal parts.
In our new whitepaper, we provide an overview of the benefits of an electropolished finish for medical manufacturing.
Electropolishing for Medical Parts
Electropolishing combines a customized chemical bath with DC power to remove a microscopically precise layer of surface material from a metal part. The result is an aesthetically pleasing surface that boasts superior pathogen resistance.
With the strictest requirements for clean – and cleanable – metal parts, the medical manufacturing industry requires a proven and consistent process for creating safe, hygienic and defect-free metal components. Electropolishing is effective for a wide variety of alloys, including:
Implantable alloys
316L stainless steel
Cobalt chrome
Ti 4L6V (Grade 4 titanium)
Nitinol, tantalum (refractory metals), and more
A defect-free Metal Surface = A Safer Product
While some industries prize electropolishing's ability to create a bright, shiny and aesthetically pleasing finish, this defect-free finish also provides the cleanability necessary for medical parts, especially reusable parts.
The Food and Drug Administration (FDA) has made the cleanability of reusable medical devices a top priority, made even more critical by the emergence of antibiotic-resistant pathogenic bacteria, such as MRSA and VSRA. Electropolishing is an important part of ensuring that parts for medical devices do not have surface imperfections that can trap liquids or debris or become initiation sites for pathogen growth.
Optimize Cleanability with Finish First
From aerospace to medical manufacturing, electropolishing is a key step in the safety production of many critical metal parts. In our whitepaper, you will also learn about a process we offer that enables manufacturers to incorporate finishing requirements into the design and prototyping of metal parts. This process, called Finish First, ensures an optimized design for function and fit.
As the world's largest provider of electropolishing, Able's team employs state-of-the-art technology to deliver exceptional metal finishing results for medical manufacturing.
Read our latest whitepaper Electropolishing for Safer, Cleaner, More Durable Medical Parts to learn more.
Contact us through the link below to learn more.