Automation in a Time of Expedited Needs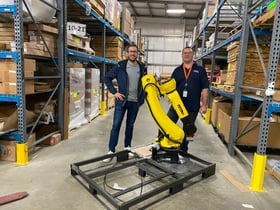 It's "all hands on deck" at Able as we work to electropolish critical metal parts for the manufacturing of medical equipment needed for the COVID-19 outbreak. But not all those hands are human.
Our newest addition to the robot team arrived just in time for the tight deadlines and growing demand among our medical manufacturing clients, many of whom play key roles in the production of equipment for battling the coronavirus.
Manufactured by Fanuc, the Bumblebee, as its nickname suggests, is just a fraction of the size of our largest robot, but its power comes in the ability to automate processes for the smallest and most fragile parts.
Robotic automation allows us to reproduce customized processes with precision and consistency. As the country's largest electropolishing specialist Able is committed to continuous improvement and innovation, and our investment in robotic automation – 27 and counting – helps drive both efficiency and the consistency of our metal finishing processes.
Electropolishing for Medical Device and Equipment Manufacturers
Cleanability, pathogen resistance and durability are key benefits of electropolishing for medical device parts. With its ability to remove a microscopically precise amount of surface material, electropolishing creates the ultraclean, ultrasmooth surface needed for critical metal parts.
Industries with no room for error, like medical manufacturing and aerospace – among others, turn to Able for the highest quality finishing processes for these parts. But no two parts are the same. Robotic automation ensures that our highly customized processes can be reproduced with consistency, even when there is a need for rapid turnaround.
Automation also helps reduce physical strain and fatigue among our employees, enabling us to provide the highest-quality results, every time.
A Commitment to Continuous Improvement
At Able, our processes are the result of decades of expertise, innovation and collaboration with our clients. Robotic automation is a key part of our investment in innovation.
To learn more about how you can incorporate reliable, high-quality customized metal finishing processes into your manufacturing processes, give us a call or click on the link below.
We are also available to consult in the prototyping stage, helping you avoid common design flaws that can prevent optimal results in the finishing process.
Learn More about Electropolishing for Critical Medical Parts and More