Electropolishing is the Answer! Here are the Questions…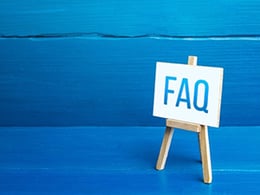 Over the years, Able's team has answered thousands of questions about electropolishing. From inquiries related to specific projects to queries about the use of electropolishing in general, many of these questions come up during our private Lunch & Learn sessions. Here is a sampling of some of the ones we hear mostly frequently:

When you manufacture parts for medical implants, surgical instruments, aerospace machinery and more, there's not a lot of room for error. Even the smallest imperfection in a critical metal part can lead to disaster.
Electropolishing works by removing a microscopically precise layer of surface material to eliminate defects like microburrs and microcracks, smoothing the surface for improved fit, function, finish, and durability of the part. This highly customizable finishing process combines a chemical bath with an electrical current to strip away surface material to tolerances as low as +/-.0001" depending on metal type.
With so many ways to customize the process, electropolishing is effective for a wide variety of metal alloys and a wide variety of metal parts. That leads to a wide variety of questions! Here are a few examples:

Does electropolishing impact the hardness of a part?
A: No. Electropolishing removes the outer skin of the part but does not impact the hardness case.

Can electropolishing be used in conjunction with mechanical finishing?
A: Yes. While electropolishing often eliminates the need for additional processes, it is sometimes used in conjunction with mechanical polishing to ensure the highest-quality results.

Does electropolishing provide control over the amount of surface material removed?
A: Electropolishing removes a precise layer of surface material in a process that can be controlled, e.g. +/- .0001" for titanium, +/- .0002" for stainless steel and +/- .0005" for aluminum.

Does electropolishing work with parts created by additive manufacturing?
A: Yes, electropolishing eliminates surface imperfections like microburrs and microcracks that can be left behind following additive manufacturing. Learn more.

Is an electropolished part more corrosion resistant than a part that has been passivated?
A: Salt spray test results show that electropolishing leaves parts 30x more corrosion resistant than parts that are passivated. Learn more.

How do I know if electropolishing is the best option for my part?
A: Request a free sample to see the results for yourself.

What is the smallest and largest part that can be electropolished?
A: At Able, custom racking and robotic automation enables us to work with parts of all sizes and degree of intricacy.
Still have a question? Reach out to us or join one of our Lunch and Learn sessions to learn more about electropolishing.