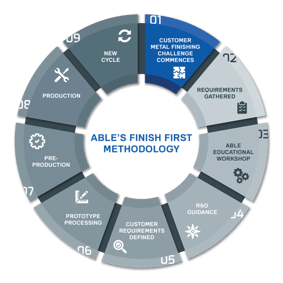 Read our guide to understand why so many of the world's best-known manufacturers, including Boeing, SpaceX, Tesla, and Volvo, trust Able to electropolish their metal parts.
When it comes to finishing mission-critical parts – like medical implants and aerospace components – nothing can be left to chance.
That's why so many high-stakes industries use electropolishing to microfinish, deburr and enhance the fatigue life and corrosion resistance of their metal parts. Few other finishing methods offer the microscopically precise results of electropolishing or are compatible with such an extensive number of alloys.
The Difference the Right Partner Can Make
The right finishing process, however, is not enough to ensure the level of quality needed for critical parts. High-quality electropolishing isn't an easily won skill. It is dependent upon experience, diligent quality control processes, and the ability to calibrate the process for a wide variety of parts and metal alloys. That's the Able difference.
As pioneers of electropolishing since 1954, the knowledge and expertise of the Able Electropolishing team has been honed over seven decades of innovation and collaboration with engineers across industries.
Read our new guide to learn more about the commitment, processes and approach that have built Able Electropolishing into the world's largest electropolishing specialist. Here is an overview:
Why Able Electropolishing is Different
As an industry leader, Able has developed and improved upon its innovative metal finishing solutions to deliver the highest quality parts to the manufacturers of mission-critical products. The world's best-known manufacturers rely on Able's precise and consistent results for their metal parts -- and you can too.