Electropolishing is used to improve surface finish and enhance corrosion resistance, enabling critical metal parts to perform better and last longer.
Here are some best practices for engineers and manufacturers to use in providing specifications for their part requirements.
Including thorough specifications on your drawings is the best way to ensure the consistently high-quality finish of your parts.
When specifying electropolishing, there are four main areas to address: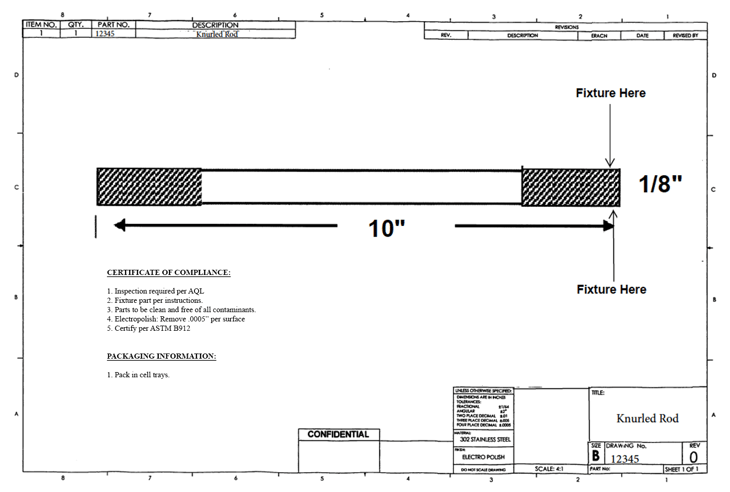 1. Material Removal and Desired Surface Finish
Before submitting a part to be electropolished, engineers need to have an idea of how much of the surface material can be removed without impacting the part's intended function. This will vary depending on the application of the part itself, the part-specific size tolerances and the alloy. In some cases, the amount that can be removed is very minimal (.0001" per surface) and must stay within prescribed size ranges.
The Able Electropolishing process includes the ability to control tolerances up to +/- .0001" per surface.
Specifications should also include the desired part finish so that we can also tailor material removal based on the application and part-specific requirements, with a controlled, flexible process that ensures that the surface finish adheres precisely to the results you are seeking.
Microfinish improvement, for example, requires a minimum of .00025" per surface total material removal from a part. Microdeburring may require more removal. Both the desired amount of surface material to be removed and the ideal surface finish should be included when specifying the electropolishing process on a drawing.
Examples of material removal specifications by application include: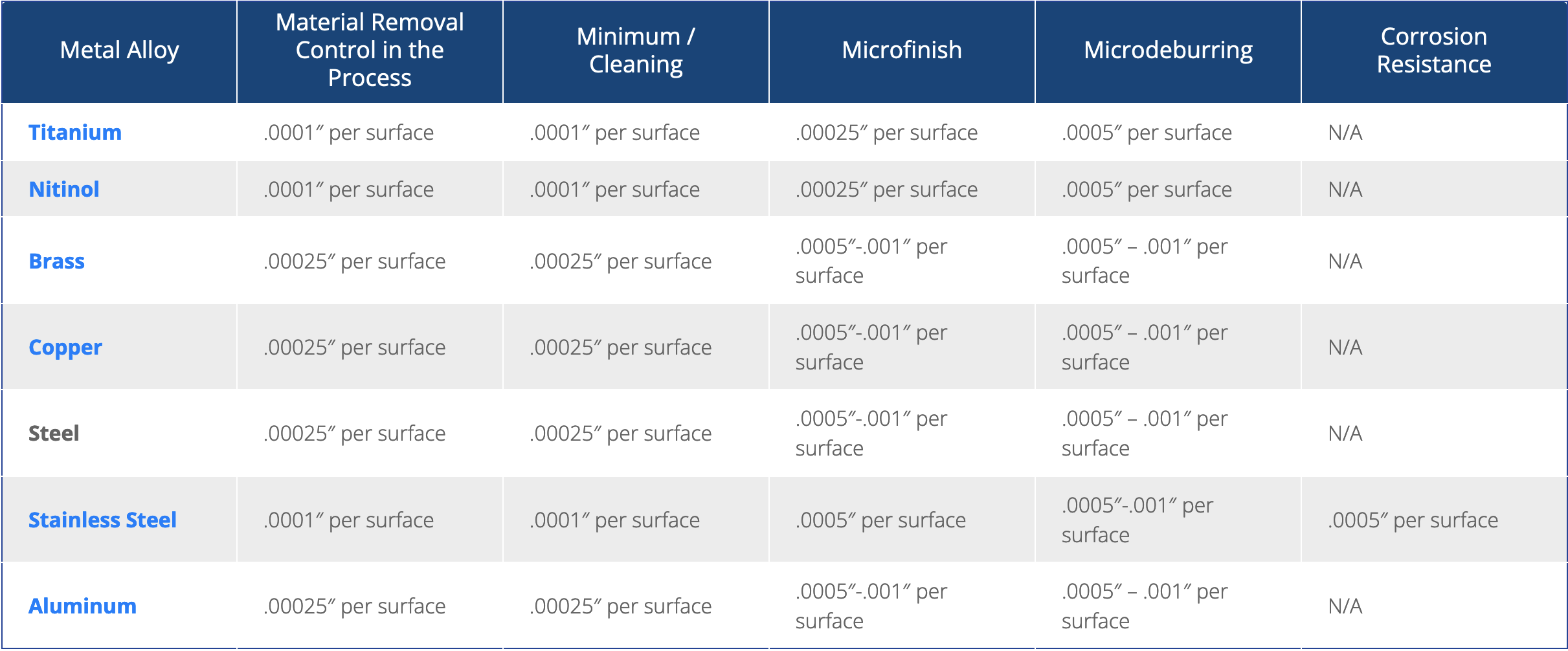 2. Fixturing Location and Critical Areas
Identifying the critical areas of the part helps determine how to fixture the parts correctly. During the electropolishing process, parts are fixtured on custom racks and submerged into an electrolytic bath.
Some parts, especially when it comes to parts that need to retain a sharp edge, require extra care when it comes to the fixturing positioning. For example, parts that need to retain a sharp edge can be fixtured to ensure optimal results for part functionality.
If aesthetics are key, engineers can identify the critical areas to help prevent visible fixturing witness marks. In addition to establishing other key parameters, Able's sample electropolishing process can also help determine the most effective location for fixturing.
3. Established Company or Industry Specs
Companies that already have process specifications for electropolishing will either use industry or company-specific specifications. These standards should be included when requesting a quote to ensure that Able can meet the specification and provide the required finishing results. ASTM B912 is the most commonly used electropolishing specification. Like most specifications, this is not part specific but is used as a guideline for part processing.
4. Packaging Needs
Packaging plays a critical role in protecting the finish of your parts.
The Able Electropolishing team has decades of expertise in providing the highest quality finishing results from start to finish and can provide consultation around the best packaging for your parts. Our process is built around a "Finish First" approach in which the end results –including packaging – are factored into specifications as early as the prototyping stage. By indicating the final packaging needs on drawings for electropolished parts, manufacturers can guarantee their parts arrive undamaged and meet customer expectations.
Trust Your Mission Critical Parts to the World's Largest Electropolishing Specialist
At Able Electropolishing, we pioneered the process of electropolishing critical metal parts, and our processes have been honed in collaboration with industries with no room for error. Our processes are built around quality control protocols that begin with the end result in mind.
Our free sample process, Finish First methodology and technical review sessions ensure that your results are precisely tailored, consistently achieved, and exactly aligned to the specifications and results you need.
Reach out to our team to take advantage of our processing for ensuring the highest quality results for your parts and you'll learn why so many of the world's leading companies rely on Able Electropolishing for their mission critical parts.