Join Able Electropolishing at Winter 2020 MD&M West Conference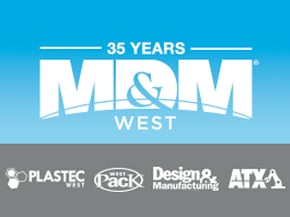 Stop by booth #381 Feb. 11-13 at the Medical Design and Manufacturing Conference at the Anaheim Convention Center in Anaheim, Calif.
Technology-driven advancements are transforming the medical device manufacturing industry and the Winter 2020 Medical Design and Manufacturing Conference brings together engineers, inventors, medical professionals and other industry experts from around the world for three days of inspiration and idea exchange.
Advances in medtech are poised to make an incredible difference in the lives of patients across the world and fuel a medical manufacturing market expected to grow to over $200 billion by 2025.
Among the trends and topics to be explored at the Anaheim, Calif. event:
The transformation of minimally invasive surgery
AI-powered medical devices
3D printing
Wearables vs. implantables
Material innovations
Solving top-quality challenges in medical device manufacturing
At Able Electropolishing, we'll be there to share our solutions for metal finishing processes that provide medical manufacturers with the ultrasmooth, ultraclean and pathogen-resistant surfaces that yield safer and more durable metal parts for medical use.
The Role of Electropolishing in Creating Consistently High-Quality Parts for Medical Manufacturing
Advanced metal finishing processes like electropolishing go hand-in-hand with advancements in medical technology.
At Able, our electropolishing processes have been honed over six decades of research and collaboration with our clients in the medical manufacturing industry to produce the highest quality results with repeatable precision and customized processes for a wide array of medical tools, devices and implants.
With the growing threat of antibiotic resistant bacteria, electropolishing plays a critical role in improving the pathogen resistance and cleanability of critical metal parts. Electropolishing removes a microscopically-precise layer of metal surface, removing imperfections that can trap liquids and bacteria and leaving parts with multiple benefits of critical importance to medical manufacturers:
Enhanced corrosion resistance
Clean, sanitary, easy-to-clean surface
Improved microfinish
Fatigue life improvement
Burr-free finish
Consistent, repeatable results
"Finish First" Methodology Puts Finishing Expertise to Work from the Start
At Able, our methodology includes consulting in the design and prototyping stage to eliminate design flaws that can hinder pathogen resistance and cleanability, like features that impede rinsability. Our Finish First methodology puts the power of our metal finishing expertise to work right from the beginning, leading to the highest-quality outcomes necessary for critical medical parts.
We work closely with clients in the design phase, creating prototypes and collaborating on the most optimal design for cleanability and precise and effective finishing. With clean design incorporated into the R&D, prototyping and validation of manufacturing processes, our customized processes for finishing each part produce even better results. It's an attention to detail and ongoing innovation that our medical manufacturing clients have come to rely on, along with our clients in the aerospace, laboratory, pharmaceutical, food processing, pharmaceutical and automotive industries – and more.
To learn more about how custom electropolishing processes can improve your metal parts, click on the link below or stop by booth 381 at the Medical Design and Manufacturing Conference (MD&M) Feb. 11-13. We hope to see you there.