Able Launches Updated Customer Portal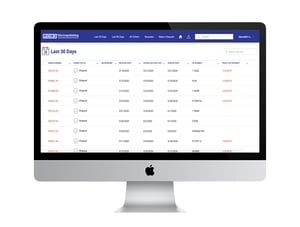 At Able Electropolishing, we have invested decades in perfecting our metal finishing processes, with innovations and automation that have brought a degree of precision, consistency and quality that could not have been imagined just a short time ago.
But our technological achievements would be of little value if we didn't also keep our clients' processes at the forefront of everything we do.
That's the commitment that drives our customer service processes. While not as glamorous perhaps, as the work we do to help military aircraft get off the ground, or to aid in the creation of a delicate part used in a surgeon's lifesaving procedure, it is important all the same.
That's why we're proud to announce the launch of our new and improved customer portal. It's not going to save anyone's life, or facilitate the defense of democracy, but it will make things a little easier for our clients who do.
So along with record turn-around times and state of the art technology, we can now offer our customers the ability to track orders, submit forms, receive company updates, and more, with the click of a mouse, from wherever they are. Here are just a few of the features you can use to make your processes a little bit easier.
Sign Up Now to Join Our Customer Portal
Tracking & Order Tools
New tracking and order tools enable customers to monitor their packages with one-click redirects to the UPS and FEDEX websites for detailed tracking information. Within the portal, customers can now access:
Order Estimated Ship Date
Order Shipped Date
Order Received Date
One click redirect to UPS & FEDEX tracking info
Backorder tracking
This increase in order transparency allows our clients to track each step of their orders. The portal also provides part count and description information. In the event of a backorder, the portal will update the client with information regarding the status and estimated fulfillment date.

Request Forms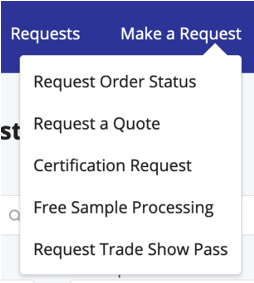 This update allows clients to submit request forms for:
Samples
Quotes
Order Status
Trade Show Passes
Certifications, and more
As an expedited process for request forms, this virtual tool will allow Able's team to provide faster responses to customer inquiries.
Announcements
All company announcements and order updates will be posted directly to the customer portal, keeping our clients in-the-know. With a simple login process, clients can access the platform from any web browser.
Signing up is easy. Click here to learn more.
A Commitment to Our Customers
From robust robotic automation to customer portals, we are committed to making things more efficient and convenient for our clients, while providing the high-quality services they depend on. Our portal provides another layer of feedback, transparency and communication that clients can use to make their processes easier, among other resources, including:
If there is more that we can do to solve your metal finishing challenges, please let us know. We are committed to the continuous improvement of our processes, from start to finish. That's our specialty after all. To learn more about how a high-quality metal finishing partner can add value to your processes, including customer service, give us a call or click the link below.